Manavgat, the second largest district of Antalya, is a quiet and pretty town surrounded by Taurus Mountains from the north. Being a much quieter and more peaceful town compared to the popular districts attracting too many tourists in Antalya, Manavgat is one of the first preferred destinations for those looking for silence and serenity during their vacation. There is a lot to visit in this peaceful town, behind of where paramount shadow of Taurus Mountains casts and the face of which greets the Mediterranean. Above all are the waterfalls, which are the first to come to mind when it comes to Manavgat.

Manavgat is like a paradise for those who do not want to limit their vacations with the trio of sea, sun and sand. In addition to swimming, you can also take long walks at the heart of the unique nature and wander among the ruins of ancient cities, which preserve the traces of the past faithfully, here. Being almost integrated with the name Manavgat, the waterfall is very popular not only in Turkey but also abroad.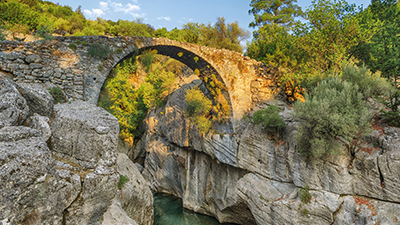 If you wonder which season is the best time to visit Manavgat, we can say that it is the summer. Because you can also enjoy swimming and sunbathing to the fullest in the summer. The statistics show that the district attracts the most tourists in June and July. However, it is a district welcoming its visitors also in May and September, i.e., in spring and autumn.